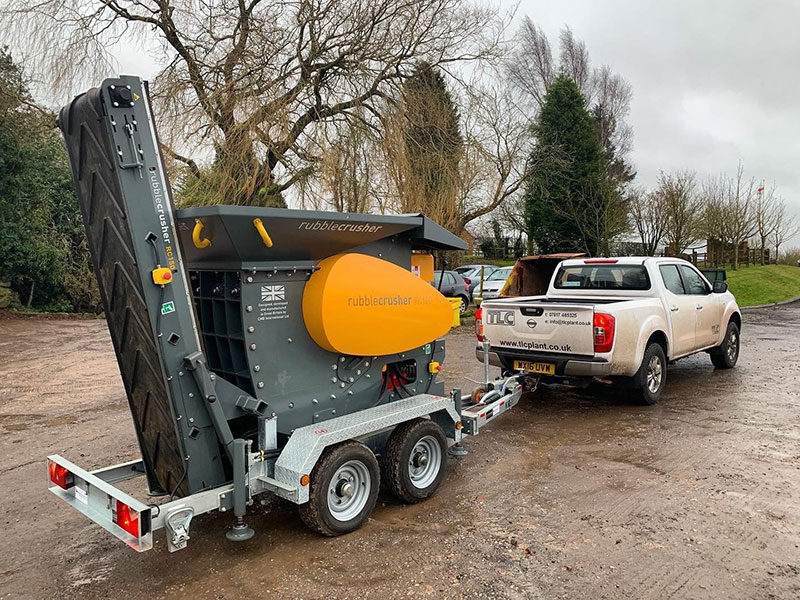 Concrete Crushing? We know all about it at The Websitemen – we've just had the pleasure of building a website for Lewis at TLC Concrete Crusher Hire – let me tell you a bit about how it works. We're suitably impressed!
Are you looking to maximise your rubble and waste that you have left over from a project – look no further! Contact TLC Concrete Crusher Hire, Devon
The concrete crusher is a great way to get rid of unwanted hardcore and rubble – it's extremely portable and just hooks up to the back of TLC's pick up – they're based in Devon and cover the whole of the South West of England – their client base ranges from domestic landscaping up to commercial sites.
What better way to understand the crusher than to watch it at work:
How can concrete crusher hire save you money?
We were in awe of the amount of money this concrete crusher can save you – have a look at this sum:
Cost of rubble disposal for 200 tonnes = £3200
Cost of bought in hardcore for 200 tonnes = £3000
Total = £6200
Our Crusher = £385
Your saving = £5815!!
The crusher can crush between 150-200 tonnes of rubble per day!
There's plenty of reasons to hire this concrete crusher if you've got any kind of rubble waste that you want to get rid of – if you're wanting to fill an area, shed base or any other form of base, crushed concrete is the ideal base – it packs down very hard and will not move over time – add some scalpings on top of that and some concrete and you have your floor ready to go for whatever you need it for.
Call Lewis on 07817 485325 to discuss your concrete crushing requirements